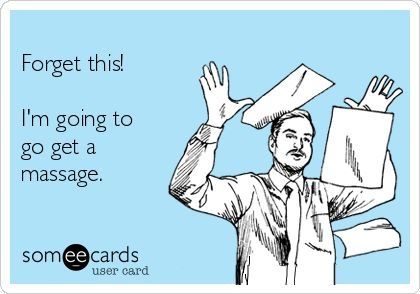 Massages make you feel like you've been wrapped in a cloud and the "reset" button pressed on your body. Let's clear some confusion about various types of massages:
Thai Massage
For a layman, every massage translates to relaxation. However, Thai massage is different, as it is more energising and rigorous in form. Also known as Thai yoga massage, in a traditional Thai massage, the therapist uses his or her hands, knees, legs, and feet to move you into a series of yoga-like stretches. "Thai massage is like doing yoga without any work, it is not just a massage but a therapy in itself. It uses yoga asanas to open the joints and relieve the tension in the surrounding muscles, which allows healing energy to move more freely through the body and also stimulates the acupressure," says Prasanna Nagar, a yoga practisioner, who has also learnt Thai massage formats. Thai massage does not need any oil for the massage; it is a clothed form of massage and is usually performed on a floor mat.
Benefits:
Helps in muscle compression and joint mobilisation
Reduces stress
Improves blood circulation
Increases energy and flexibility
Swedish Massage
This is the most common type of massage therapy, and what many people are thinking about when they hear the word "massage" or try to give someone else or themselves a good massage.
Swedish massage uses a combination of these basic movements:
Long, sweeping strokes (effleurage), usually used at the start and end of a massage. Muscle kneading and rolling (petrissage), where the muscles are worked on just like kneading dough
Friction, where deep pressure is applied to a particular spot with the thumb, fingertips, or knuckles
Rhythmic tapping (tapotement), fast percussion movements like chopping and even pounding (could be distracting)
Benefits:
Stress relief
Relaxation
Releasing cramped or tense muscles
Deep Tissue Massage
As the name says, this massage focuses on the deeper layers of muscle tissue and work out hard knots or adhesions that exist in those muscles. "By using the technique of kneading through strokes done by elbows, knuckles and fists, a deep muscle compression and friction is created along the grain of the muscle. This helps in loosening the fibres of the muscles and release both toxins and deeply held tension points," says Abitha Nair, a massage therapist. This massage needs to be performed on bare skin with either aroma or pain-relieving oil. It is mostly helpful to ease stiff necks, low back tightness and sore shoulders. "It is very important to drink plenty of water after a deep tissue massage as it helps to eliminate toxins from the body," she adds.
Benefits :
Relaxes muscles
Helps manage pain
Lowers blood pressure
Relieves stress
Hot Stone Massage
During hot stone massage, your body is not only weighted down with hot, smooth stones, but the masseuse also uses the stones to massage your body.A hot stone massage is mostly relaxing, but it also is more invigorating than your run-of-the-mill massage, thanks to the almost-too-much heat bringing you back to focus on the moment instead of letting you drift off. The heat helps release the tension in your back and shoulders, mostly, so those muscles can be worked on more effectively.
Benefits :
"Centering" yourself
Releasing very tense muscles
Relaxation
You can get a great massage from any of these salons in Jaipur.
#Stayawesome #lookgood